Today it was announced that David "The Admiral" Robinson will be entering the Hall of Fame. Not only one of the greatest basketball players of all time he will be more-so remembered for being the nicest, greatest human being that has ever walked the earth.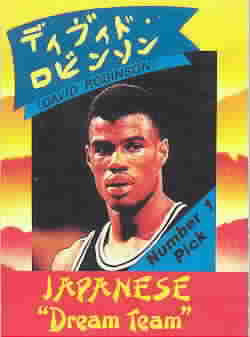 NBA Champion (1999, 2003)
NBA MVP (1995)
NBA Defensive Player of the Year (1992)
NBA Rookie of the Year (1990)
All-NBA First Team (1991, '92, '95, '96)
All-NBA Second Team (1994, '98)
All-NBA Third Team (1990, '93, 2000, '01)
All-Defensive First Team (1991, '92, '95, '96)
All-Defensive Second Team (1990, '93, '94, '98)
10-time NBA All-Star
Only player in NBA history to win the Rebounding, Blocked Shots, and Scoring Titles and Rookie of the Year, Defensive Player of the Year and MVP
One of only four players to have recorded a quadruple-double
NBA Sportsmanship Award (2001)
Third player in NBA history to rank among the league's top 10 in five categories (7th in scoring (23.2 ppg), 4th in rebounding (12.2 rpg), 1st in blocks (4.49 per game), 5th in steals (2.32 per game) and 7th in field-goal percentage (.551))
First player in NBA history to rank among the top five in rebounding, blocks and steals (per game) in a single season
Fourth player ever to score 70+ in an NBA game
3-time Olympian (1988, '92, '96)
One of 50 Greatest Players in NBA History (1996)
Led NBA in Scoring (1993–94 season) - 29.8 ppg
Led NBA in Rebounding (1990–91 season) - 13.0 rpg
Led NBA in Blocked Shots (1991–92 season) - 4.49 bpg
Holds record for most IBM Awards (1990, '91, '94, '95, '96)
His 10,497 rebounds and 2,954 blocked shots are the most by any player wearing a San Antonio Spurs jersey, and his 20,790 points are second most only to George Gervin's 23,602. (Had only Gervin's NBA numbers been taken into account, Robinson would be #1 in this category; Gervin scored 4,219 of his points while the franchise was in the American Basketball Association.)
Gold Medal in 1986 FIBA World Championship.
Member of Dream Team #1 during Olympic Games at Barcelona.
On February 13, 2009, Robinson was announced as a finalist for the Naismith Basketball Hall of Fame.
On April 6, 2009, Robinson was elected into the Naismith Basketball Hall of Fame.
None of those accolades account for other things like the fact that he opened his own elementary school, The Carver Academy, and has put in somewhere around $10 million to it.
Steve Aschburner of SI.com has a wonderful article about The Admiral
HERE.
Here's a taste: "We were playing shooting games in practice,''
Danny Ferry
, now Cleveland's general manager but then a Spurs forward, told me at the 2003 Finals as Robinson's career wound down to a few games (for the record, he had 13 points and 17 rebounds in the Game 6 clincher against the Nets, his NBA finale). "Everyone will cheat a little bit here or there -- it's all in fun, we're not playing for money or anything. But David won't. So if his team wins, we don't question it at all. We're like, 'Aw, David doesn't cheat. They must have won.' If David says something, you believe it.''
David Moore of The Dallas Morning News has an article
HERE.
I'd post a link to the hometown San Antonio Express News but as of April 1st the paper has been thinned down to a sad, anorexic piece of shit that specializes in peddling complete trash. Pick it up SA-EN. You're officially on watch.